Jaipur Smart City aspires to enhance the quality of life of its citizens, and to leverage its heritage and tourism through innovative and inclusive solutions.

The Smart city mission aims to drive economic growth and improve quality of life through comprehensive work on social, economic, physical and institutional pillars of the city. The focus is on providing clean and sustainable environment and carry out development activities in a way that the city act as a lighthouse to other aspiring cities in the Smart City Mission.
To revamp the living standards of our Citizens, Jaipur Smart City strive for enhancing the city's Infrastructure and Heritage.
Environment Sensor

Fire Station Bani Park

Nahargarh Road
Chandpole Bazaar Road
Nagar Nigam Office - Malviyanagar
Jorawar Singh Gate
Manak Chowk Police Station
World Trade Park
Sanganeri Gate

View Environment Sensor Data

Kishan Pole Bazaar (Near Ajmeri Gate)

Chandpole Junction

Nagar Nigam Office
Fire Station - Manasarovar
New Gate
Vidhan Sabha
Nagar Nigam Office - Heritage
26th-Pole Kishan Pole Bazaar



PUBLIC SHARING BICYCLE PROJECT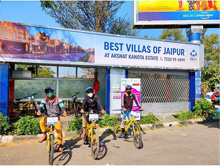 Jaipur Smart City Limited has taken the initiative to bring the traffic of Jaipur on bicycles. If people start commuting by bicycles, it will not only cut down pollution but also the traffic on roads will be less bothersome with more cycles than cars..

You can rent the bicycles from 20 different dock stations. This one is the Shiksha Sankul cycle stand. Contribute in our mission to promote cycling, good health and pollution free environment and be a part of the change. Let us make our Jaipur city pollution free city. Keep Riding, Stay Healthy, Save Environment...



TULIP INTERNSHIP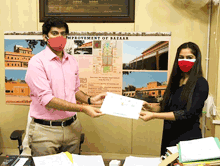 Jaipur Smart City CEO giving certificates to the interns for successful completion of their internship under The Urban Learning Internship Program (TULIP)

The TULIP scheme was launched to provide internship opportunities to the graduates and engineers across the country. Jaipur Smart City Limited intently joined the mission to give fresh exposure to students in a large number of areas including, but not limited to urban planning, urban design, different branches of engineering, information and technology, mobility, finance, social sector & environmental issues.

JSCL has provided internships to as many as 278 students till now with a vision to create synergies between advancing functional skills in students and harnessing their energy and ideas to co-create solutions for the future of our cities.