Multi- Level Car Parking
---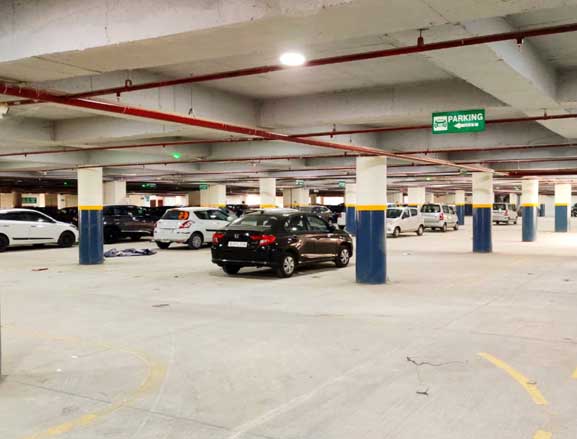 The growing population and economic activity is straining the existing infrastructure of Jaipur city. Parking is a major issue in the walled city area and an emergent issue in the rest of the city. One of the main reasons is commercialization along the main roads. The commercialization led to an increase in parking demand along these roads.
Jaipur Smart City Limited has taken up the work of developing multi-level parking space at Chaugan Stadium (Gangori Bazar), Anaj Mandi (Chandpole) and Jaipuria Hospital (Malviya Nagar).
Presently the visitors park their vehicles on the roads or in the surrounding areas. This is leading to haphazard parking and congestion on the roads. To avoid this major issue and also to provide proper facility for the future increase in parking demand, multi-level parking spaces are being developed by JSCL. It would serve the benefits such as:
- Ensuring sufficient parking spaces for four wheelers as well as the two wheelers in the defined area.
- Developing Basement parking will not disturb the land usage in the targeted area, which means underground parking levels accompanied with well managed ground floor activities.
- This fully- automatic parking project provides facilities such as lift, ventilation, firefighting system, Smart Ticketing and Smart Payment system, etc.
The person entering the parking zone is able to determine the availability of parking space and the location where space is available through the (Jaipur Parking) mobile App.