RTDC (Temples)
---
The re-development, renovation and repair works at the temples under the RTDC projects are under progress. Jaipur, being a prominent tourist location is famous for its rich culture and heritage. The temples in the walled city have massive structure and attracts the tourists who come to visit the walled city. So there renovation was highly required to bring forth the rich heritage and architectural beauty that was fading away with time due to climatic changes.
Jaipur Smart City Limited would ensure that all such old temples across the walled city which are in a dilapidated condition are renovated gracefully. The materials used in repairs, restoration, reconstruction are the same as used in the original works when the temples were first constructed. JSCL is ensuring that no inappropriate material is used such as cement.
We are moving towards promoting our historic magnificence and preserving the old architecture.
Talkatora Lake
---
Where Water, Landscape, Heritage and Recreation comes together to form a Public place...The lake is a significant part of the larger Ecosystem since the inception of Jaipur. It has the potential to become:
-  A recreational Node
-  A public place
-  A dramatic setting where culture and nature can be merged to depict the essence and heritage of Jaipur



The redevelopment work includes:
-  Rejuvenation of Lake
-  Restoration of Front Area, Boating Activities, Landscaping/ Fountain, etc.
-  Musical Fountain Show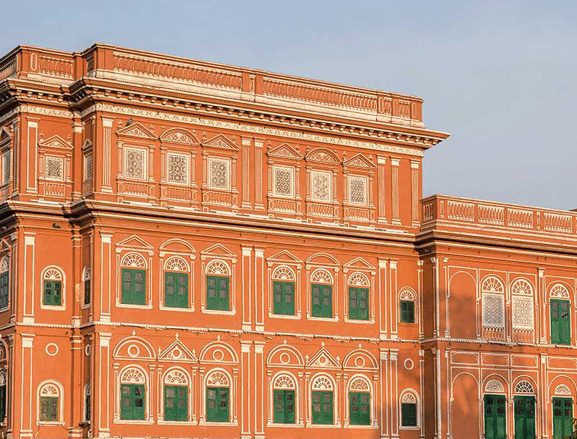 WALLED CITY FAÇADE
---

Jaipur is a prominent tourist destination with rich cultural and heritage importance. On 6th July 2019 Jaipur Walled city has been declared as UNESCO World Heritage site due to its unique cultural heritage that lies in its diverse backgrounds of people, its vibrant colours and most importantly its glorious heritage sites which forms a complex and highly developed fabric of human habitation. This makes it a prominent tourist destination with rich cultural and heritage importance.
The work of Façade is being carried out by Jaipur Smart City for the conservation of historic facades and character of heritage buildings of various Bazaars in the pink city. The project aims at conservation and renewal of the heritage structures, the condition of which deteriorated with time due to climatic conditions. The façade redevelopment work is being done following all the traditional means and methods consulting the heritage experts. This is a legendary initiative for discovering the treasured and rich heritage of the 'pink city'.
Heritage Walk
---
The Jaipur Heritage Walk Project has been initiated by Rajasthan Tourism Department under the Swadesh
Darshan Scheme launched by the Ministry of Tourism (MoT) in supervision of Government of India aiming towards an integrated development of theme-based tourist circuits in the country.
Location
Heritage walk has been designed through a selected segment of the city with total area of 0.14 sq. km within the Chowkri Modi khana, starting from the Rajasthan School of Arts, Kishan pole Bazaar and ending at film colony, Chaura Rasta. Today the area has approximately 19 Havelis, 680 Households, 25 Sanatan temples, 20 Jain
Temples, 4 Mosques and 17 schools.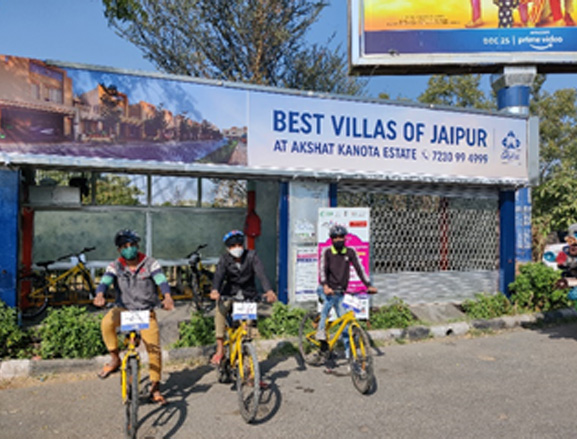 Public Bicycle Sharing
---
With Public Transportation becoming a key concern due to Covid-19, Jaipur Smart City intends to overhaul its urban eco-system and facilitate walking and cycling infrastructure.
The initiative has been taken up by JSCL to bring the traffic of Jaipur on bicycles. If people start commuting by bicycles, it will not only cut down pollution but also the traffic on roads will be less bothersome with more cycles than cars.