Transport 4 All
---
Jaipur Smart City is participating in "Transport4All- Digital Innovation Challenge"—an initiative of the Ministry of Housing and Urban Affairs. It aims to bring together cities, citizens, and startups to develop digital solutions that will make public transport safe, affordable, comfortable, and reliable for all

COVID-19 has brought the entire world to a halt with transport being one of the worst-hit sectors. Transport 4 All Digital Innovation Challenge has the potential to support cities to recover from this mobility crisis. It will support the cities and start-ups all over the country to move towards digital transformation in urban mobility.

Sports Facilities
---

Integrated Development of Chaugan Stadium and Development of Sports Facilities in SMS Stadium
In previous times, the Elephant festival was held at the Chaugan Stadium but due to the increase in crowds its venue got changed in 2011 and has been shifted to Jaipur Polo Ground which is opposite to the Sawai ManSingh Stadium.
Now as SMS Stadium is concerned, it has all facilities as per the international standards. However, the cycle velodrome, needs maintainance and upgradation. Two international championship level tennis courts are to be built. There is also a need to construct a new indoor stadium consisting of facilities for sports like Boxing, Table Tennis, Badminton and Wrestling.
Jaipur walled city contains several historical bazaars where the local vendors do business with various items of interest to tourists. All these bazaars are essentially business hubs overcrowded with local vendors, local public and tourists. The vendors were facing several issues due to broken  verandahs and water leakage problem. JSCL has undertaken this project after hearing to their problems. Being constructed more than 100 years ago, the verandahs structure deteriorated due to climatic conditions. Lot of damages were also caused to the Verandahs due to Metro work. Water leakage is also one of the prime problems the people were facing. Immediate repair and renovation was required for the safety of vendors, public and tourists. To provide solutions to all these issues, JSCL remained committed, keeping in mind the traditional methods, techniques, and materials that were used in the original works, to uphold the rich heritage and culture of the pink city. The prime purpose is to repair the surface and structural damages of walls, ceiling and pillars to ensure structural safety and renovate by painting the entire surface to get an overall pleasing and aesthetic appearance.

The repair and renovation works of the verandahs is being carried out by Jaipur Smart City Ltd with the consultation of local vendors and Heritage experts.
Nallah Redevelopment (Shops Construction)
---
From World Trade Park in JLN Marg along Park Avenue Road
The vicinity of this location is already a heavy footfall area with place like World Trade Park, Gaurav Tower, and all other malls. This is the reason that the development of shops and interesting sit-out spaces have been proposed for the area. 73 shops has been constructed to be used for commercial purposes.
The project is aimed to focus on the re-development of the area in a way that it becomes a new recreational activity hub besides a hub for small and medium level trading activities in the city. As the location is in the vicinity of other heavy footfall areas like WTP and Gaurav Tower, etc., and located on the side of important road like JLN Marg, the place would be beneficial for all, especially the local residents of the area. These works shall promote clean environment around and would also initiate a new recreational activity area. The architectural, civil, water supply, sewerage, drainage, electrical works have been done.
Three Junctions
---
Three junctions (Sanganeri Gate, New Gate and Subhash Chowk) are the prominent historical landmarks of Jaipur. These gates are entry gates of the walled city and unquestionably the centre of attraction for domestic and foreign tourists.
Jaipur Smart City Limited has taken up the work of conservation, renovation and repair of all these three junctions of the walled city.
Roads and footpath need repair and Walls of the junction need to be painted with traditional colour along with other works.
Multi- Level Car Parking
---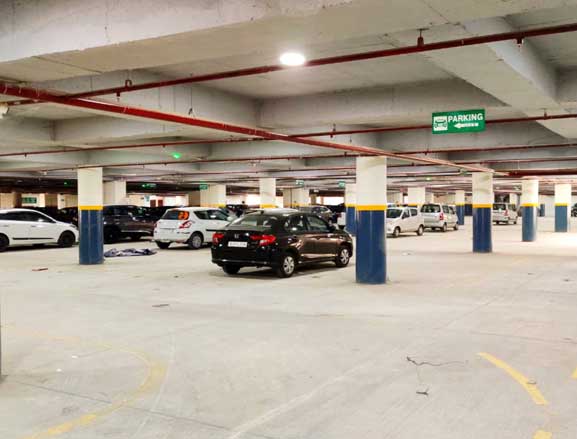 The growing population and economic activity is straining the existing infrastructure of Jaipur city. Parking is a major issue in the walled city area and an emergent issue in the rest of the city. One of the main reasons is commercialization along the main roads. The commercialization led to an increase in parking demand along these roads.
Jaipur Smart City Limited has taken up the work of developing multi-level parking space at Chaugan Stadium (Gangori Bazar), Anaj Mandi (Chandpole) and Jaipuria Hospital (Malviya Nagar).
Presently the visitors park their vehicles on the roads or in the surrounding areas. This is leading to haphazard parking and congestion on the roads. To avoid this major issue and also to provide proper facility for the future increase in parking demand, multi-level parking spaces are being developed by JSCL. It would serve the benefits such as:
Environmental Sensors
---
Jaipur Smart City Limited developed the Smart City solutions and State-of-art City Operation Centre to deliver, monitor and manage the Smart City Services.
Services such as Smart City Wi-Fi, Smart Lighting, Smart City Surveillance with Vehicle Identification & Counting, Smart Parking, Environmental Sensors, Smart Communication, Integrated City Operation Centre have been incorporated.

Smart environment sensors will gather data about pollution, ambient conditions (temperature and humidity), and other events on an hourly and subsequently daily basis. The sensors will inform and enable citizens and administrators to keep a check on their endeavours which impact the environment and enable the city to take remedial actions.
---
Smart Wi-fi
---
Smart Wi-fi will enable the city to access the wireless internet service with ease and convenience. It allows for a confluence of data from static sensors as well as connected objects and people. This data can inform city processes and improve the delivery of urban services and the management of infrastructure.
---
Smart Lighting
---
Jaipur Smart City Limited intends to implement an energy efficient LED based Street Light System bundled with ambient light sensors along with Smart controllers in Walled City Area.

Network connectivity has an important role to play in building Jaipur as a Smart City by bringing together different city management vertical solutions on a single foundational network infrastructure. The converged network facilitates information exchange between resources and applications across different domains. It is an end-to- end open platform enabling IOT (Internet of Things) services for cities.